Specialising in Shapewear, Swimwear, Nightwear and Underwear
Harrogate VIP Winner Trip 2016
The fabulous weekend away included a trip to the famous Betty's tea room where they enjoyed afternoon tea and also a relaxing visit to the Turkish Baths and the enjoyment of the Christmas markets.
The competition simply required the entrant to drop their business card into a bowl on the Patricia Eve stand at The London Swimwear Show or either of the two MODA shows.
Juliete said after her weekend away, "Just wanted to say a massive thank you for a wonderful weekend. The afternoon tea was amazing complete with pink champagne and the most exquisite mini cakes - I could eat it all again now. You also got some tea samples to bring home in the cutest little tins ever. I love Betty's; it brought back a lot of fond memories when I used to go with my Grandmother and Aunty as a little girl as a very special treat.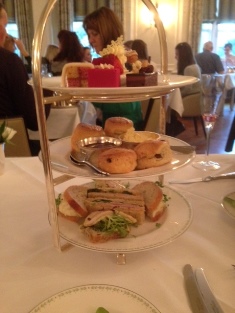 We had a wander around the Christmas market which was good fun with everyone getting in the Christmas spirit drinking mulled wine to keep warm. It's not often Ian & I switch off and spend time together so we can't thank you enough for the brilliant time, it was great."
Patricia Eve would like to thank everybody who took part in the competition and entered their business cards into the draw.