Specialising in Shapewear, Swimwear, Nightwear and Underwear
VIP Weekend Competition - Don´t Miss Your Chance To Enter
As in previous years one lucky winner will win a luxurious weekend trip to Patricia Eve's beautiful hometown of Harrogate on the 18th-20th November 2016 and the prize will include a visit to the world famous Betty's tearooms for afternoon tea as well as an indulgent trip to the Turkish baths.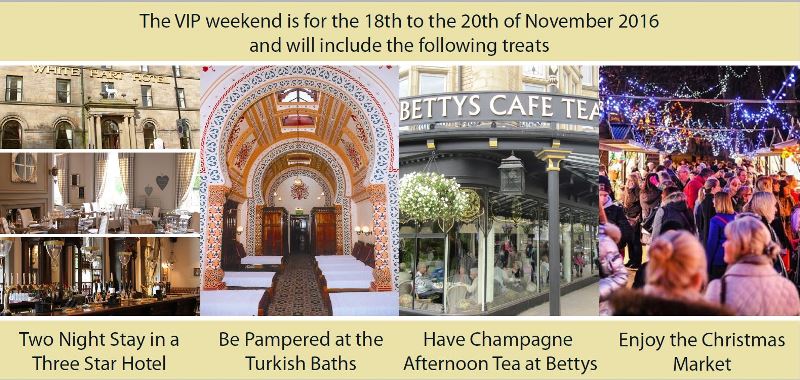 Set in the heart of Yorkshire, the Harrogate District is one of the most spectacular areas of England with attractive towns and villages, imposing historic houses, castles, abbeys, beautiful countryside and a host of other natural and man-made attractions. To be in with a chance of winning in 2016 the rules are the same as in previous years, simply visit the Patricia Eve stand (LB17) at MODA this February or August and pop your business card into the entry box.
Your prize includes:
A weekend trip to Harrogate for 2 people
http://www.harrogate.gov.uk/Pages/harrogate-266.aspx
Hotel for 2 nights (Friday & Saturday night - hotel TBC)
A session at the Turkish Baths
http://www.harrogate.gov.uk/pages/Turkish-Baths.aspx
Champagne afternoon tea at Betty's
Relaxing stroll around The Valley Gardens
http://www.harrogate.gov.uk/pos/Pages/ValleyGardens.aspx
A visit to the Harrogate Christmas Market
http://www.harrogatechristmasmarket.org/
Last year's winners were Steve and Valerie Newton from the Bra Closet in Wickford Essex. "Bettys was a true experience made even better with a glass of champers - worth the trip alone- the hotel and room was really comfortable and made even better by the location - you could spend all weekend walking round the varied shops. Would definitely visit again, we can't thank Patricia Eve enough" said Steve Newton
So don't forget to bring your business cards with you this weekend if you are visiting Moda and drop it into the box on our stand…you never know, this year it could be you!