Specialising in Shapewear, Swimwear, Nightwear and Underwear
Miradonna makes its bow...
Something special is on the horizon…
Patricia Eve are delighted to announce the launch of brand new shape enhancing swim label Miradonna, the result of an exciting collaboration between two of their bestselling brands!
Miradonna has been two years in the making and is the result of a fresh and exciting partnership between American brand Miraclesuit and Italian swimwear experts AFS who have produced the likes of David Swimwear and Iconique beachwear.
The two swimwear suppliers were introduced to each other at a Paris trade show two years ago by Patricia Eve and the idea for the collaboration was simple - to bring the flair of the Italian design, print and colour to the American brand in order to entice and capture a different audience to those who already remain loyal to the classic Miraclesuit trademark.
The resulting brand Miradonna by Miraclesuit is a swimwear collection offering functional designs in fashionable Mediterranean style with flattering shaping silhouettes. Designed in Italy with the high quality standards of Miraclesuit, the Miradonna swimsuit provides the modern woman with the comfort, style and great looks she aspires to thanks to its light and soft shaping fabric, Mirashape, which gently shapes and smoothes the body.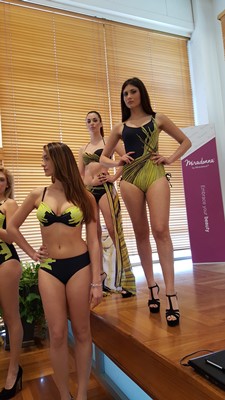 Patricia Eve will be presenting Miradonna at the Lyon trade show in July and then the London Swim show also in July, followed by MODA in August.